New Brooklyn United Methodist Church began around 1830 in a one room community building used for as a public school weekdays, as a social hall in the evenings and then a house of worship on Sundays. According to documents it was started by Methodist Episcopal laymen, led by William F. Bodine, who began services in New Brooklyn about 1859.
They built the present church which was completed and dedicated in 1860. An old news clipping reports that when the Civil War broke out 40 members of this congregation enlisted. It was then that the pews were painted red, white, and blue to show how patriotic they were.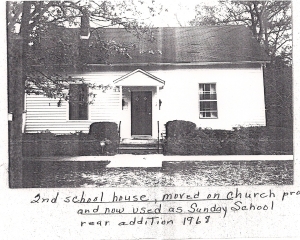 In 1930, an old one room school house located near by on Broad Lane Road was moved next to the church and used as an educational building. This is the same building used today as our Fellowship Hall. The building was renovated and restored on May 12, 1968.
The church united with Methodist Protestant, Methodist Episcopalian and then began one Methodist Church in 1939. Since then we have had 33 pastors including our current pastor Rev. Dr. Robert W. Ralph.
On July 4, 1860, Williamstown and Siclertown joined in the grove by the Mill Pond. The Union Brass Band was engaged for the day. There were many speakers, supper and other refreshments were served, and even the horses were fed! The money raised would go to the building of the new Methodist Protestant church. Even then Methodists were noted for their gatherings to eat!
In 1906, a parsonage was built. In the year 1925, lights were installed in the church building. Shortly after that a piano was placed in the church. Many of the older members of the church said this "music box" was an instrument of the devil and they refused to sing when the piano was played.
Through the years improvements were made; landscaping, painting, outside lights, a new chimney was installed, a new roof, siding, and a back door for wheel chair access.
The updates and improvements continue to this day. On July 4, 2010, we celebrated 150 years with a tent service to rededicate our church and an old fashioned covered dish to celebrate. We look forward to serving our Lord for at least another 150 years!